Exhibitors
Presenters Rates - Observers Rates

A booth, half booth, or table rental includes an EXHIBITOR badge. This badge provides access to all CINARS Biennale 2022 activities.
You may register up to 5 additional people per booth and 2 additional people per half booth at the rates indicated below. You will receive the link for additional badges once the reservation is completed.

The CINARS Gala Dinner will take place on the evening of Saturday, November 12. You may attend for an additional fee of $85 (taxes included). Spaces limited.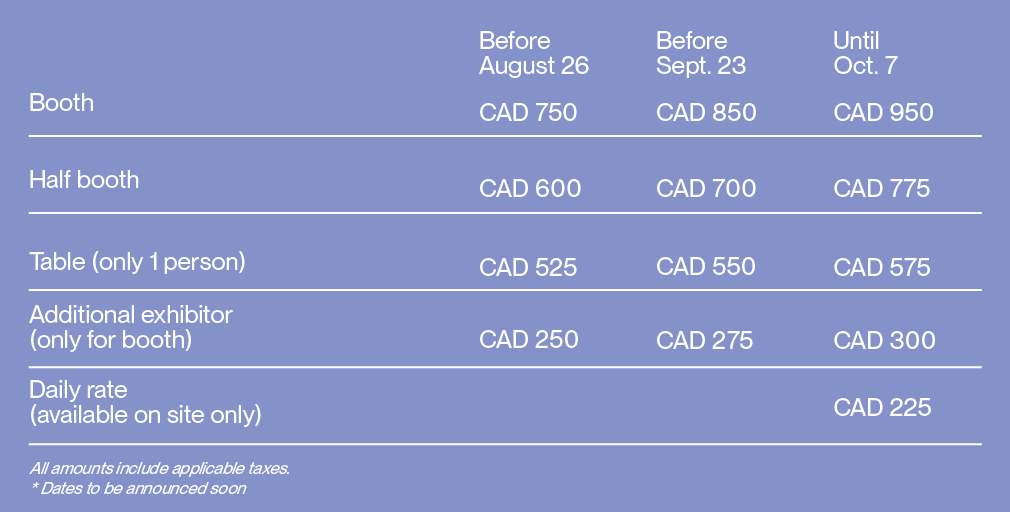 Please note that exceptionally, CINARS will assign booths, half-booths and tables in the exhibition hall for this edition. Your location in the exhibition hall will be communicated this fall. For logistical reasons, we are unfortunately unable to take special requests.

REFUND POLICY
Until September 1: Full amount minus a $50 administration fee.
Until September 15: 50% of the registration fee.
After September 15: No refund.
CONTACT
Coordination Assistant
+1 514 842 5866
adjcoordo@cinars.org